About Prague
"the most beautiful city in the centre of Europe, the capital of medieval Europe, the 'Mother of Cities', a city of culture"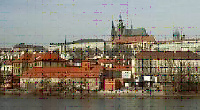 These are just a few of the descriptions given to Prague, this remarkable city in the heart of Europe. Prague boasts the distinction of being a privileged place, ranked among the most important and interesting European cities. Hundreds of years of history attack your senses when you walk through its lanes trying to capture its essence and being fascinated by its mixture of architectural styles: austere Romanesque, mystic Gothic, ornate Baroque and the decorative forms of Art Nouveau which seem to be floating in the air. Cultural life has never missed Prague, in particular; Prague has always been a centre of culture. Numerous famous personalities have visited or lived in Prague and they adored this city for the world of thought and inspiration that the city offered them.
Prague is an unbelievably free and comfortable city. It is not as big as most European metropolises and thus, the main tourist attractions are within easy reach. The variety is extensive and the prices remain low. Tourists are always welcome here: They can enjoy the atmosphere of small cafes and restaurants, and in cozy hotels and small pensions they can feel at home.
The magical atmosphere has been shaped over ten centuries. Places of the greatest tourist interest are on the Royal Route running from the Powder Tower through Celetna Street to Old Town Square, then across Charles Bridge through the Lesser Town up to the Hradcany Castle. One should not miss the Jewish Town, and the National Gallery with its fine collections of Czech Gothic, old European, and of beautiful French art.
More information about Prague